IFFC – II A GRAND SUCCESS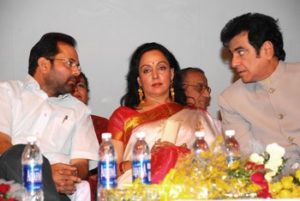 This festival was an a comptetion attended by 31 countries veid to win the iiMC Statue which has made itself prestigious. It was an event to showcase and recognize authentic, artistic, effective and informative short films made accross the globe.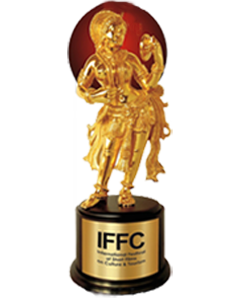 Participating Countries: IFFC II

Australia
Herzegovina
Portugal
Scotland
Austria
Hungary
Russia
Singapore
Azerbaijan
India
Macedonia
Spain
Belgium
Iran
Mexico
Sweden
Bosnia
Ireland
Morocco
Switzerland
Brazil
Israel
Nepal
USA
Canada
Italy
Netherlands
UK
Czech Republic
Japan
Norway
Uzbekistan
France
Jordan
Pakistan
Lithuania
Poland
Germany
IFFC II, THE SUCCESS STORY
The three-day successful
Second International festival of short films on culture
which received an unprecedented response from delegates from India and abroad. It reached its grand finale on Saturday 29th March February 2008. This was the only competitive festival in the world dedicated to films on culture. This festival was not assortment of few selected films but it was competitive in nature and short films from 38 countries vied to win 10 iiMC golden statue's.
The festival showcased 129 short films from 38 countries in two screens. Thousands of filmmakers and film enthusiast saw these films depicting various aspects of culture. Delegates from 9 countries were present in this festival, besides ambassadors of two countries.
Workshop
Workshop on Film-craft and script writing was held during the festival by a renowned script writer & director from Hollywood Mr Krishna Shah on 29th March 08. It was a huge success. Hundreds watched and learnt the basics of film-making from legendary director who was assisted by Mrs Soniya from England. Everyday the screenings were followed by a grand entertainment programme. 200 artists from various part of the country participated in this cultural extravaganza. Everyday thousands of viewers enjoyed the screenings as well as cultural programmes.
Inauguration
The festival was inaugurated with great festivity and fanfare by legendary actors of Indian Cinema Hema Malini, who is known for his contribution towards Art in the country and Jeetendra, heart-throb of millions. Chief Guest of the ceremony was most popular lyricist Sameer. Present on the occasions were Former Minister of Information of Broadcasting Mukhtar Abbas Naqvi, Film stars Rama Vij and Sudhir Dalvi, the entire Jury alongwith it's Chairman Swapan Malik, besides delegate filmmakers from various countries.
Mrs Hema Malini in her inaugural address felt sorry for the slow death of Documentary movement in the country and declining number of dedicated filmmakers of this genre. She wished that the government should support such festivals and lauded the efforts of Devendra Khandelwal and his team. She felt that the culture of India is unique, and this festival was a great opportunity to showcase it to the world community. She felt this film-festival can be equally popular like other fairs & festivals of Rajasthan, for which the state is globally famous.
Noted actor-producer Jeetendra appreciated the decision to hold a cultural film festival of this magnitude in a city like Jaipur, which is rich in culture and traditions. He also felt that the IFFC-II was not simply a festival of few selected films but competitive in nature, this encouraged filmmakers from every part of the world. He also remembered his early days of struggle when he had come to Jaipur by bus as an extra to do a bit-role in V.Shantaram's film "Sahara".
Mukhtar Abbas Naqvi was optimistic that this festival would open up a new chapter in uniting the world culture and hoped that the festival would create an atmosphere for film makers to meet and exchange thoughts. He felt that culture might sound a small word but it contained centuries in it. It was older than the civilization and sometimes civilization became synonym to culture. If we called civilization the body then the culture would be its soul. In that sense the festival covered a vast range of subjects and he thanked various departments of Government of Rajasthan to bring such a great cultural extravaganza of the world to Rajasthan.
Sameer had all the praise for this competitive festival and participation of films from 38 countries. He lauded the decision of organizing committee to have no entry fees for the filmmakers to enter their films and also free entry for cine-goers. He felt that this step would develop interest in common man for documentary and short films. He also appreciated the zeal and dedication of the organizers, who spent millions for this grand festival, without expectation of anything in return, just for the cause of documentaries and short films.
Devendra Khandelwal, one of the leading filmmakers of India and the Chairperson, organizing committee, IFFC-II, described that IFFC was planned to generate concern both in filmmakers and cine-viewers towards culture and documentary movement and he also elucidated his entire teams' hard work put together to make the event memorable.
9 Golden statuettes were given in a glittering ceremony at "Madhyawarti" at Jawahar Kala Kendra on 29th March by His Excellency Ambassador of Czech Republic His Excellency Dr Hynek Kmonicek and Internationally renowned director Krishna Shah in presence of film-technicians and film-makers who attended this festival, considered very prestigious in film-fraternity, besides thousands who thronged to attend the closing of the prestigious film festival. Swapan Malik, Chairman of the Board of Jury, announced the awards and read citation. The board of Jury, after careful deliberations and screening of 129 films from 38 countries announced the unanimous result.
Devendra Khandelwal, Chairman IFFC-08 welcomed the guests and stressed the importance of such festivals, particularly in India. He also thanked Rajasthan Tourism and Jawahar Kala Kendra for their support. Film & TV Actress Rama Vij and renowned character actor Sudhir Dalvi also spoke on the occasion.
Hundreds of folk dancers from all over India performed various folk danced and added glamour to the Award ceremony